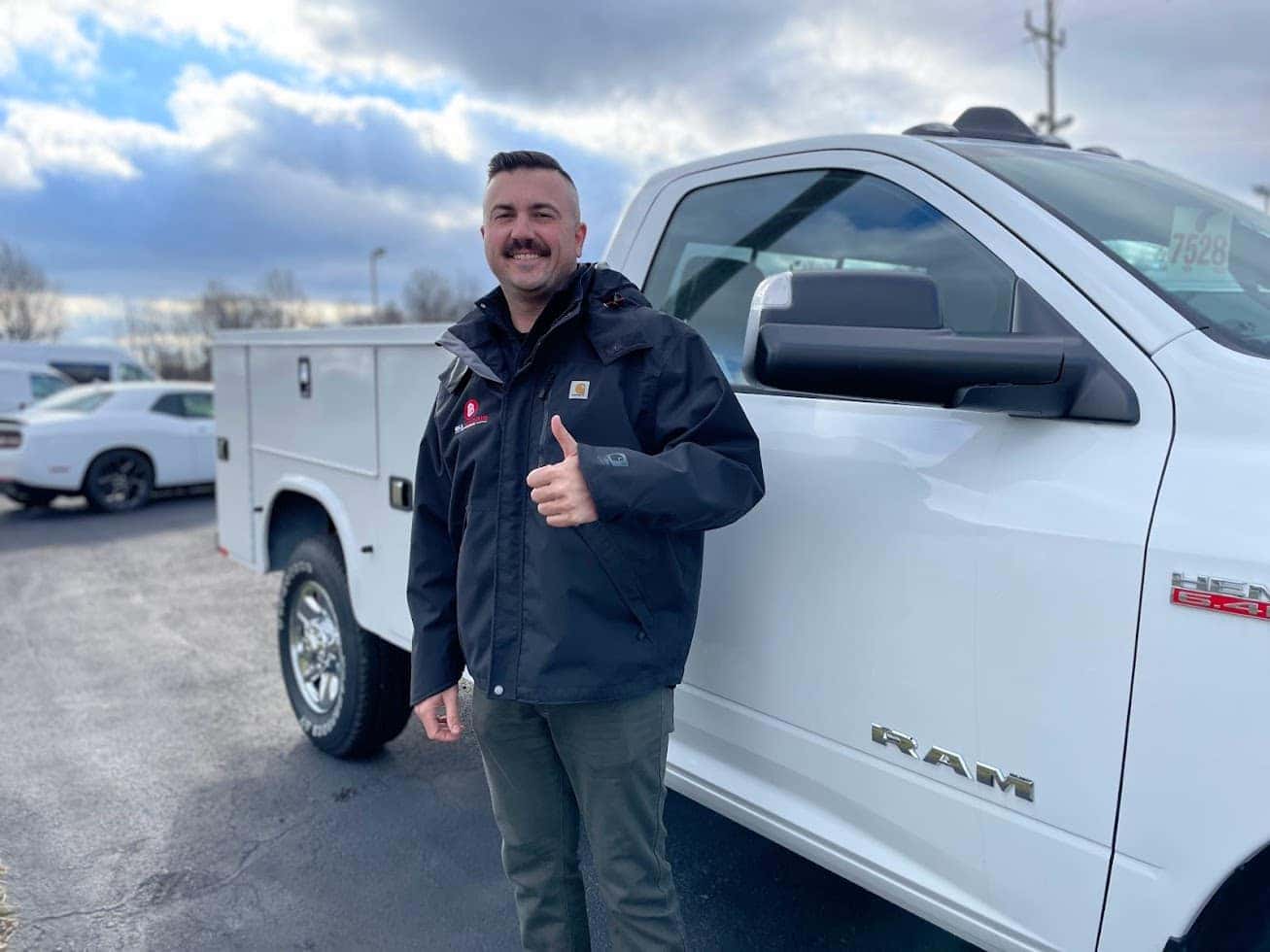 Commercial Truck Dealer
When jobs become challenging, and you need something powerful enough to get you through the workday, Bill Harris Chrysler Jeep Dodge is just the Ashland commercial truck dealer you need. We supply Cleveland, Columbus, Wooster, Ashland, and Mansfield, Ohio, with innovative and fuel-efficient commercial trucks for sale in Wooster. It may seem like our sales team, and managers know a great deal about cars, minivans, and SUVs when we also are skilled and knowledgeable about the commercial trucks in our world's existence.
Our commercial trucks are more geared towards heavy-duty and rugged tasks. Surprisingly enough, we have other options for commercial vehicles for sale that you should know about. The Jeep family of vehicles are also listed as commercial work vehicles, almost like our work vans for sale. For instance, Jeep Compass and Jeep Cherokee vehicles are great company vehicles for news crews, light catering businesses, and charitable nonprofits. These are excellent choices not just as commercial vehicles, but look great with your small business logo on them. These comfortable options to drive would make great additions to any small business looking to buy a company vehicle.
Another choice in our commercial fleet is the Ram commercial vans we have in stock, many of which are brand new. A commercial van for sale would be an excellent addition for larger catering companies, mail, and package delivery companies, to use as a company vehicle. The Ram Promaster and Promaster City commercial vans for sale are two of our newer models that are sure to aid any business looking to transport materials, food for caterers, and so much more. Creative minds can use these Ram commercial vans for various things that help their business in any way they see fit. The Ram Promaster is a FWD cargo van with great technology features such as a good backup camera, blind-spot monitor, and keyless entry. Pictures of these great transport vehicles are located on our website and are even eligible to test drive on the dealership site and would be great additions for small to medium-sized companies.
Commercial Trucks for Sale Ashland
When searching for the right truck at our commercial truck dealer, our customers should know that we have nearly one hundred options within our inventory. Our commercial trucks for sale near Cleveland include a diverse variety of Ram trucks and even Jeep trucks with Ecodiesel engines. We supply the Ram 1500, Ram 2500, Ram 3500, and Ram Chassis Cab. Bill Harris Chrysler Jeep Dodge sells mostly diesel trucks for sale in Ohio, with a few gasoline engine trucks available for purchase. We recommend checking out the inventory of Ram Chassis Cab commercial trucks at our retail truck dealer. Several styles and trims are up from grabs on our Ram 4500 and 5500 Chassis Cab commercial trucks for sale Wooster. These heavy-duty vehicles make outstanding dually commercial trucks for sale in Ashland to use for farming communities of Ashland, Mansfield, and Columbus, Ohio. These are also great for utility businesses of any kind.
It is surprising to know for some, but the Jeep Brand also manufactures the amazing commercial truck for sale called the Jeep Gladiator. While it has the Jeep name, the Gladiator is essentially a Jeep truck with a diesel engine inside. This can be added to your list of options as commercial trucks for sale in Ashland. We suggest Jeep diesel trucks for sale in Ohio because the vehicles pack a mean punch in the towing packages offered. A Jeep Gladiator would be a tremendously beneficial commercial truck for sale in Ashland, boasting a 7,650-pound towing capacity and a 4×4 1,700-pound payload. The 3.0L Eco diesel truck for sale with a V6 engine and an incredible fuel economy is a truck to do it all.
Financial Services for Work Trucks for Sale
At Bill Harris Chrysler Jeep Dodge, your commercial truck dealer, we strive to make all steps to obtaining a vehicle with us a memorable and positive one. We have knowledgeable staff capable of educating drivers who are new to the process to team loyal to individual customers for years. We make financing for a commercial vehicle as simple as financing for other automobiles in our dealership. A unique and innovative tool is located within our website. The Online Shopper tool lets you pick through payment options that work best with your budget. How much capital you have at the time of purchase plus a trade-in will determine the payment options we can present. This is an excellent tool for those who are comfortable shopping online for now. The Online Shopper application examines who you are, your driving habits, and your trade-in value, should you have one. Finding payment options for special financing on a commercial vehicle is that easy! When ready, customers should stop in with their research to finish the financing deals and get you into driving home in the vehicle of your choice in no time at all.
Commercial Vehicle Models
Select a vehicle to see our inventory
Business Link
Become a BusinessLink member and enjoy dealership perks like expedited service, complimentary shuttles, loaner vehicles, and access to our trusted network of upfitters. Contact dealer for details.