Genuine Mopar Parts and Accessories in Ashland
Hours:
Mon - Fri : 8:00 AM - 5:00 PM
Dealership Amenities
Mopar provides authentic OEM parts for your Chrysler, Dodge, FIAT, Jeep, RAM or SRT vehicle. We also offer OEM accessories and performance parts for your vehicle to make sure it's customized to your heart's desire.
Certified Technicians
We Have Early Bird Hours
Free WiFi
Goodyear Tires
Michelin Tires
We Offer Mopar Accessories
We Offer Mopar Performance Parts
We Offer Rentals
Shuttle Service Available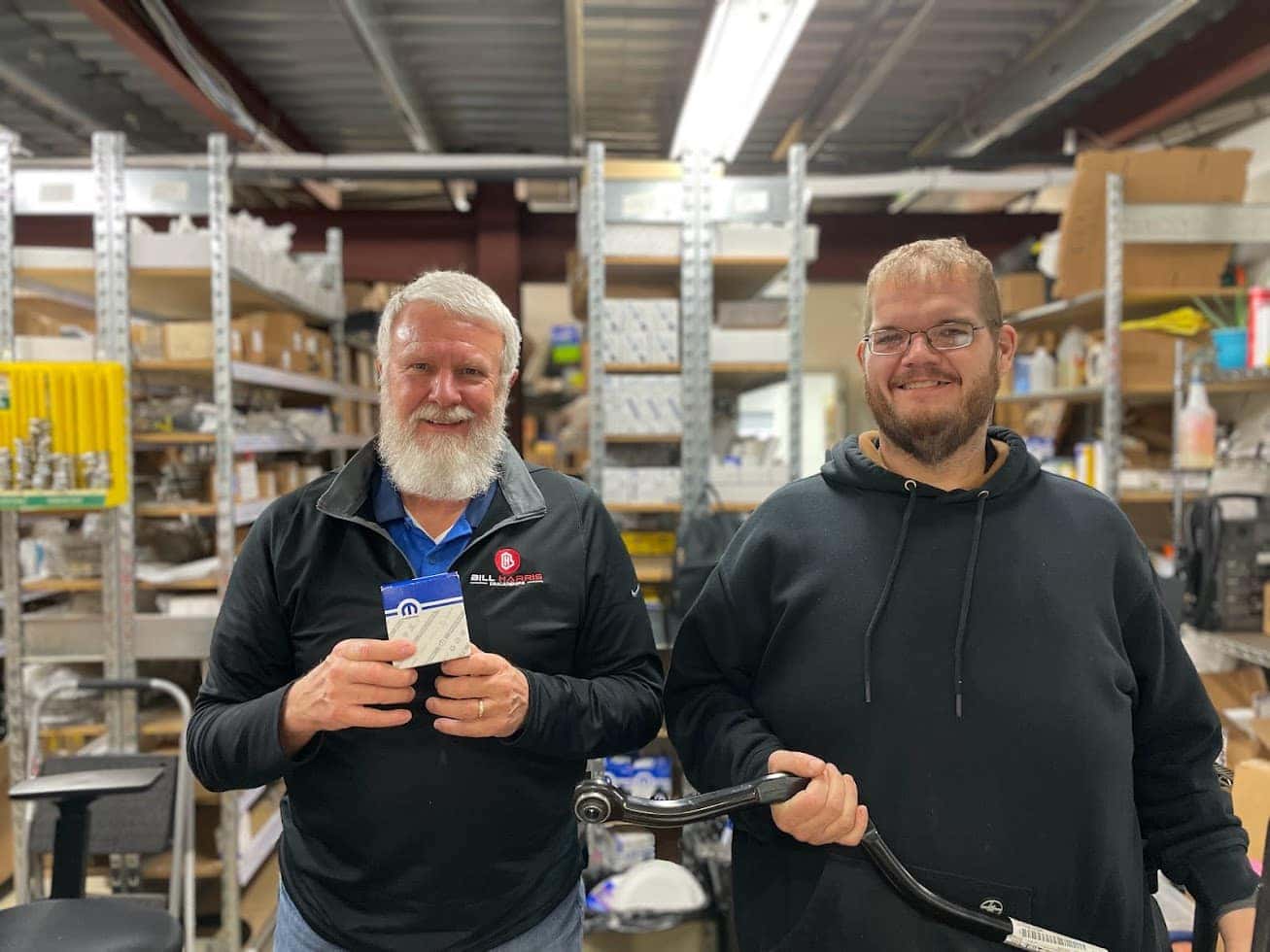 Chrysler Dodge, Jeep Parts Department in Ohio
One of the most important responsibilities of owning a largely expensive automotive investment is the care and frequency at which care is an immense deal of care. Careful analysis must be conducted to discover the roots of the reason that warrants maintenance and repairs in the first place. Bill Harris Chrysler Dodge Jeep Ram hires certified technicians to provide these careful services and quality Dodge, Jeep, Ram, and Chrysler parts. It often goes without saying that "the squeaky wheel gets the grease." However, it is critical to understand underlying issues that cannot quite be seen during diagnosing maintenance or collision issues or heard upon first glance or inspection. While most automobiles of like brands, models, or trim are similarly manufactured to meet the same general guidelines for distribution, safety, etcetera, one cannot assume that every vehicle will perform to those very expectations for a variety of reasons. At our Chrysler, Jeep, Ram, and Dodge dealer parts department, we take no chances at your often costly expense. Transparency is one of our many priorities and commitments to service. Providing quality Mopar parts for sale in Ohio is another large goal that we always meet.
If parts fit correctly and perform well within standard manufacturing and safety guidelines for production, then identically-made vehicles are expected to perform flawlessly and as identical as possible. Every case is not always this easily diagnosable. However, some vehicles have encountered far too many variables to compute to come to a "one size fits all" conclusion mentality of performing automotive services. Most often, we will find that the quality of the parts often do not meet par inspection or perhaps are cheaply made versus their counterparts manufactured in higher quality. Regardless, too many variables can exist within the automotive industry to diagnose similar situations into one category of solutions. To summarize the above: different vehicles must be treated with thorough yet efficient auto care that is of high value, quality, and integrity for the money spent to pay for automotive services. These careful services must be conducted by certified staff trained well to leave the "one size fits all" mentality behind and examine every potential problem and possible outcome or solution to each problem. The parts department at your Ashland Chrysler parts dealer near me provides these very higher quality services that will provide lasting loyalty to our dealership for many years to come.
Accessories & Genuine Mopar Parts for Sale in Ohio
Upon visiting our parts department, which is found in our beloved service center, you will quickly see that we offer a generous yet genuine supply of Mopar parts for sale in Ohio. There are options to buy your Chrysler, Dodge, Ram, and Jeep parts online or through our in-store associates and technicians. Mopar Jeep parts are among these options available for immediate ordering and purchasing if in stock at our store. Mopar Ram truck parts are also in tremendous supply to buy. If one rather prefers aftermarket products to our Ram OEM parts, then the aftermarket products are also available for ordering, purchase, and installment right at our service center. We suggest the Mopar Jeep parts and Dodge OEM parts over aftermarket brands because of the higher quality they provide for your vehicle's longevity of safety and reliability. Several various accessories are also available for in-store purchasing. These accessories are made by a Chrysler, Dodge, Jeep, and Ram brand manufacturer of Chrysler parts dealer near me. The address to our parts department of Mopar parts for sale in Ohio is 2100 South Baney Road, Ashland, OH, 44805. For questions, comments, or concerns, please dial (419)419-5792.
Why do Mopar Parts Matter?
Mopar parts are each manufactured by the FIAT and Chrysler automotive companies. The brands that are loyal to these companies include FIAT, Chrysler, Dodge, Jeep, and Ram — brands that our dealership and parts department cater to most often. Mopar parts are similar to OEM parts, or the original equipment manufacturer, which are specifically designed and tested to fit your specific vehicle by brand, make, model, and even narrow to specific trim. These Mopar parts for sale in Ohio are of the highest possible quality and built by the very brand that perfectly fits the vehicle. Aftermarket products, however, are not manufactured by the company like our Dodge OEM parts near me. Aftermarket parts are generally manufactured and generically. The parts may fit the vehicle perfectly at times and not so much on others. Because they are made generically and cheaply, the cost is lower for the consumer of Jeep, Dodge, Chrysler, or Ram truck parts. Quality is of high importance for our Mopar parts for sale in Ohio. Each of our Mopar parts fit perfectly and perform at an optimal level to increase the safe use and longevity of the vehicle you proudly own. Our customers can discover these differences in a more careful and visual explanation than the worldly education provided here, today. These instructional videos can be viewed on our parts department website at any time for leisurely and educational purposes.
Bill Harris Chrysler Dodge Jeep Ram
Is Located At:
2100 S Baney Rd, Ashland, OH 44805
Get Directions